. . . Class . . .!!!
ang pinaka-hihintay ng lahat . . .
Bwahaha! . . .
may fork na matindeh . . . Manitou Travis 203mm
wala pang frame???
. . .
you spoke too soon
. . .



heto na ang frame nyan!
give it away beybi!
the brakes . . . !!!!



[img]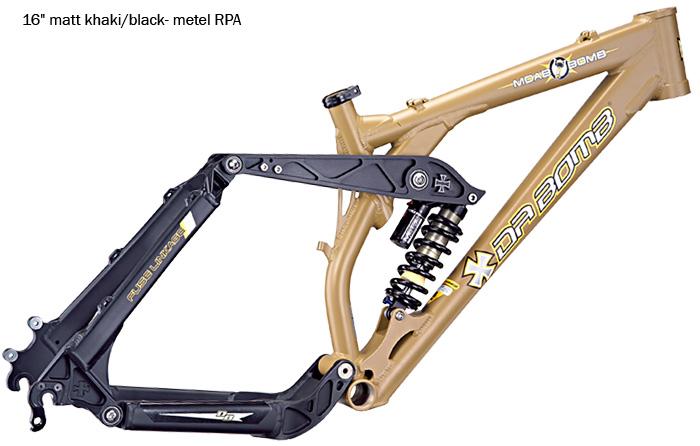 [/img]
Da Bomb Moab Bomb
Da-Bomb freeride frame offering 7" of rear wheel travel in a compact frame design. This super tuff frame offers all mountain capability with big hit performance. The Manitou Metel-RPA coil shock provides a stable platform with boulder swallowing ability.
[img]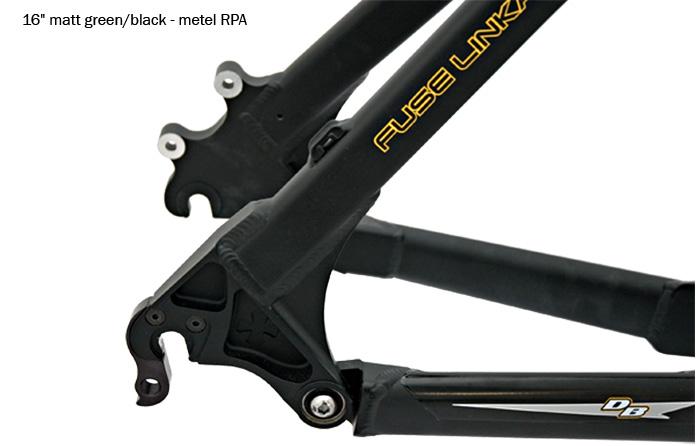 [/img]
Features:
• Material : 7005 Aluminum Double-Butted Trumpet Tubing
• Frame Travel : 7"
• Shock : MANITOU Metel-RPA
• Size : S-16" M-18"(C-T)
• Seat Post Size : 30.0 (mm)
• Color : Matt khaki- Black / Matt green-Black / Pitch Black
• Headset: Stnadard 1.1/8"
• Spring: Supplied with a 550lbs
• Rear end: Standard 135mm / 12mm
[img]
[/img]
the bottom bracket . . . look & feel . . . beybi!
and also . . . the brake system . . . attached to the mutha'fukka'!
ang makatas na braking system sa balat ng lupa and sa earth
JUICY SEVEN . . . Wow!
pang-iwas semplang . . . i surely hope so!
[img]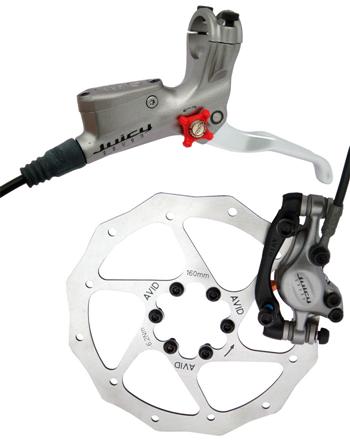 [/img]
GIVE A HAND TO THE NEW JUICY SEVEN!
Avid designed the Juicy Seven hydraulic disc brake to solve the problem of uneven lever engagement, and about 5,000 other problems you didn't even know you had. Featuring a Tri-Align caliper positioning system, a rotor a ninja would use, the best caliper design in the business, foolproof lever adjustment and switch hitter levers. Its not IF you'll want to switch, its when.
Features:
Available in 160,185 and 203mm rotors.
Speed Dial pad contact point adjustment*
On-the-fly adjustment of pad contact in the lever's travel for perfect balance
Power Reserve Geometry
True modulation AND power for the first time in a hydraulic brake Lowest X-factor in the industry
Most ergonomic arc of any hydraulic for utmost power and utmost feel Tri-Align caliper positioning system
Adjusting Avid's caliper alignment is easier than USING other disc brakes New Clean-Sweep Serpentine Rotor
Wavy design (with holes) sweeps pad clean for maximum performance (160, 185 & 203mm) Indexed reach adjustment
One click of the indexed screw equals 1mm of travel at the lever's tip Open system Automatically adjusts the pads as they wear 2 piston, open-top caliper Hyper-stiff design delivers all the power you'll ever want Rotating banjo The gizmo that attaches the hose to the caliper rotates for clean hose routing Uses DOT 4 or 5.1 fluid Super easy to find - everywhere. Heck, Wal-Mart carries it. Unique drip-free bleeding system*
Who likes drips? Interchangeable pads One pad fits the Juicy 7, Juicy 5 and the Ball Bearing 7 Backpack reservoir* Sleek looking and perfectly protected from space debris Ambidextrous lever Right lever works as left lever, which works as right lever, which works as left lever... Lightweight 414 grams (front, post mount)
Avid exclusive Your fingers pull in a straight line, but brake levers move in an arc. This is a problem, especially since your fingers' squeezing motion is towards you and outward while today's hydraulic levers pivot towards you and inward. In other words, your fingers want to slip off the ends of the levers as you pull. The shape of the lever's arc depends on the distance between the lever's pivot and the handlebar—what we call X Factor.
A smaller X Factor reduces the lever's inward travel, creating more hand-friendly geometry with an arc that's closer to your finger's natural motion for more leverage. Avid's Juicy levers have the smallest X Factor available, plus we give the blades a sweet, generous hook and wide contact area for superior feel. Power Reserve Geometry Most disc brakes seem to have lots of power or modulation. Juicy brakes have plenty of both.Juicy's reduced X Factor* gives the most linear response of any hydraulic lever. You get zero initial grabbiness and improved modulation, plus you'll have more power deep into the lever travel, when you want it most. That's Power Reserve.
Hydraulic brake levers have rising-rate geometry—leverage decreases with lever travel, forcing you to squeeze disproportionately harder to increase stopping power.
Most systems compensate by boosting the hydraulic system for max power, but that gives a lot of initial grabbiness when leverage is greatest. Juicy levers have less power falloff for more predictable, linear response. Speed Dial Pad Contact-Point Adjustment Your bike should fit you, not the other way 'round. Most brake systems aren't balanced—the left and right levers don't engage at the same time. It seems like a small thing, but makes a huge difference in brake feel. Speed Dial gives tools-free adjustment of each brake's pad contact-point (where pad touchdown occurs in the lever's travel) for perfect balance. Tune the engagement the way you like it—set it close for small hands, or far for large ones.
Tri-Align Caliper Positioning System Proper alignment of the disc brake caliper to the rotor is critical to optimum performance. It is also one of the most time consuming (and frustrating) adjustments to make with disc brakes. Enter CPS. The patent pending system allows for easy, quick and accurate caliper/rotor alignment. No need for trial and error or shims. By combining a series of concave and convex washers, the caliper is able to rock, pitch and move laterally to its perfect location - all determined by the rotor. Simply squeeze the brake pads against the rotor and tighten the 2 bolts. Ambidextrosity Gotta run your brakes moto style? No problem. Juicy brake levers switch hit—just swap the Speed Dial engagement wheels and you can switch the levers without having to swap hydraulic lines and bleed the system.
Clean Sweep Polygon Rotor Brakes work best when clean, but dirt's where the fun is. Debris trapped between the pads and rotor robs power and increases brake wear and squeal. Our Clean Sweep Rotor's polygonal wavy outer edge and drilling pattern give complete coverage of the brake pads as the rotor slips through, scraping them clean for squeal-free stops and maximum performance Other Hydraulic Disc Technologies Indexed reach adjustment NEW One click of the indexed adjustment screw equals 1mm of travel at the lever's tip The lever's sweet, generous hook and wide contact area makes braking more comfortable Drip-free bleeding…using common Dot fluid Pads interchangeable with Ball Bearing Disc No tools necessary Adjustable hose exit angle for clean routing on hardtails and full-suspension
• Includes 6 bolt 8" rotor
[img]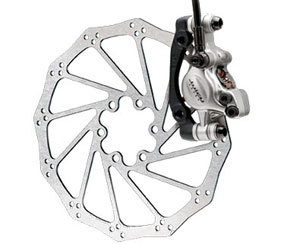 [/img]
Pang downhill . . . na brakes . . . JUICY SEVEN combined with DA BOMB MOAB and MANITOU TRAVIS . . .
Yeah . . . PROUDLY! . . . indeed . . .

[img]
[/img]
i-assemble na yan! i-ride na yan sa Sunday sa Valley Golf!
. . .