BAMBER13 wrote:

PINABABAYAAN MONA KAMI! WHAAAAAAAAAAAAA! WHAAAAAAAAA!
easy dude . . . i had a rough two weeks behind me
Now . . . ok na . . . pwede na ulit mag-bike . . .
bike tayo meyn . . . tagaktakan ng pawis . . .
we need it for good blood circulation and exercise . . .
kaya mag-assemble na ng bike yung wala pa
. . . ask for advices in this forum mga dudes
you might get the best thing out from these post messages
like . . . ahhhhmmm . . .
dudes . . . check dis awt!
nalaman ko na mas maganda pala na
ang CRANKS mo ay 36 teeth . . . !
did you know that? . . .

. . .

may hataw ang 36 teeth cranks better than the lower ones . . .

Jargon buster: Axle
- The tube through the frame that the arms attach to.
Big ring
- The largest, outer chainring. Normally 42 or 44 teeth.
Ceramic bearings
- Bearings using ceramic rather than steel balls and sometimes surfaces. Smoother, longer lasting and lighter, but expensive.
Cartridge bottom bracket
- A bottom bracket that contains both axle and bearings in one easily fitted tube.
Cold forged
- Hammered into shape using a press and die stamps. Toughens the grain structure.
Granny ring
- The smallest, inner ring, that doesn't have many teeth. Normally 22 or 24 teeth.
Hollow
- Crank or axle with a space in the middle to reduce weight.
Hot forged
- Shaped using melted metal that's poured into a die and then cooled.
Laser etched
- Burnt permanently into the surface with a laser.
Machined
- Shaped with metal cutting tools to create a clean, sharp finish.
Middle ring
- The medium sized ring – normally 32 or 34, sometimes
36
, teeth. so get the ones that have 36 . . . dude!

Pedal insert
- Metal reinforcement in the end of the crank arm for the pedal to thread into.
Pin
- Metal rivet used to help lift the chain up.
Ramp
- Shaped slope on side of chainring to help lift the chain up.
Seals
- The rubber covers and flaps between the bearings and the evil outside world.
Black, 175 mm - 36/24 teeth
1-piece AL-66 construction with oversized external mounted bearings/Heat-treated patent-pending cro-mo pedal thread inserts -
AL 7075-T6 chainrings - cold formed and CNCd - Must be used with Howitzer bottom bracket - not included -
PC Rockguard - Double chainrings -
36-24TEETH
but when it comes to the real deal crankin' apphaulin' all-around bashin' & sh*t!
for me . . . this is my preference . . . the mutha' of them all . . . curtains down baby!
lemme present to you . . .
Holy Cranks . . . it's THE SAINT . . .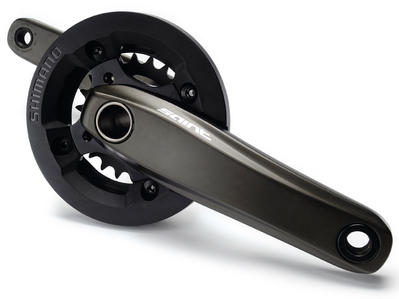 The crank of choice for many aggressive riders the world over, the Shimano Saint has a fantastic - and well-deserved - reputation as a hardcore crankset.
The oversize Hollowtech crank arms have been manufactured with strength and durability in mind. They are at the heart of its high performance – they're stiff as hell but comparatively light.
By reinforcing the pedal/crank interface and also the alloy crankshaft, Shimano has ensured the Saint has no weak points.
The dark grey anodized finish is hardwearing and gives the cranks a sleek, elegant look.
Fitting the cranks is simple and effective. It all just slots together with no faff; no wrestling with 8mm Allen keys or a ridiculous amount of spacers.
The loose pedal reinforcing inserts are a pain if you swap pedals regularly though, and the 32 & 36 tooth chainring on the double might be undergeared for some. You'll also need a new bashguard if you get a bigger ring too
Pare . . . mas makakapadyak ka ng maayos & may added velocity while you kick in your strides . . .

meyn . . . i tried it myself, there's a big diffrence
so whenever you are gonna plan to buy a CRANK SET . . . consider a 36 or 38 teeth crank before you hand over your cash at the counter
theQuanman
. . . Peace!